BCS Electrical in Victor Harbor has been run by the Steinert family for two generations.  For 32 years the business was operated by Brett and the late Bev Steinert from premises firstly at Inman Valley and then in Port Elliot.  In 2014 they sold the business to their son-in-law and daughter, Glenn and Leanne Farr, with the intention to retire … but Brett is still very much a part of the business today.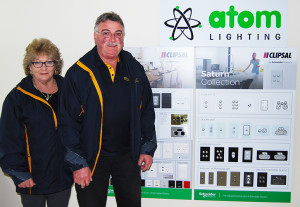 The change of ownership also led to a move to the Lincoln Park Estate in Victor Harbor.  In March 2020 BCS Electrical relocated to 6 Lincoln Park Drive, Victor Harbor to premises including an expanded workshop area, interactive lighting showroom where customers can try a wide range of lighting, switches and even ceiling fans before they have to make a purchase and, coming soon, there will also be more comprehensive displays.
Throughout its 30-plus years of operation the business has continued to maintain a passionate philosophy to offer exceptional customer service to the people of the South Coast.  They have a strong relationship with the local community and do all that they can to promote local business.  Their customer service ethos is by no means a 9 to 5 proposition.  BCS Electrical's team offer fast, efficient and professional emergency repair services too on a 24/7 basis.
As well as the Steinert and Farr family, BCS Electrical employs a reliable electrician – John, and a mature-aged apprentice Liam.  Each shares the business vision for uncompromising, friendly service.  They are ably backed by experienced receptionist Karen.
The range of services offered by BCS Electrical includes:  Electrical installations – Tag & Testing – Residual Current Device Testing – Safety Switch installation – Meter Box upgrades – Smoke Alarm Installations – Emergency Repairs – Globe Replacement – Lighting Upgrades – Safety Advice – Caravan Lighting – Heating – Data Cabling – Telephone Cabling – Hot Water Service Repairs – Energy Efficient Lighting.
We are also heavily involved in our local community and believe in giving back when we can.  We sponsor a number of organisations including:
Port Elliot Bowling Club
McCracken Golf Club
Victor Harbor Football Club
Victor Harbor Netball Club
Encounter Bay Netball Club
Encounter Bay Football Club
Port Elliot Netball Club (Social)
Great Southern Amateur Basketball Association
Great Southern 8 Ball Association
Victor Harbor Sea Scouts
To find out what our clients think of our service see our Testimonials page.