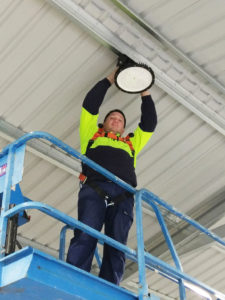 BCS Electrical offers a wide range of services for clients in the Southern Fleurieu Region either as a mobile to your door service or at their office and showroom at 6 Lincoln Park Drive, Victor Harbor.
The team has more than 50 combined years' experience in the electrical trades and are on the road in their four vans ready to assist.
The range of services includes:
Upgrades: Upgrades of your fuse box, writing and lighting can be arranged if you're infrastructure is either outdated, non-compliant or if you are considering a home or business premises renovation.  BCS Electrical can also arrange new powerpoints, light fittings, data cabling and telephone cabling to meet your needs.
Sales: The showroom sells a wide range of light globes, light fittings, table and floor lamps, lampshades, fans and heating options.
Installation: BCS Electrical can arrange for the installation of stoves and kitchen appliances, overhead and exhaust fans, air conditioning, smoke detectors, lighting and heating.
Electrical repairs: A range of repairs can be carried out by BCS Electrical's team including general wiring and fuse box repairs, underground electrical cable repairs, some appliance repairs and repairs to electrical hot water services.
Caravan repairs: Repair services can also be carried out to electrical services for your caravan too.  This includes rewiring and provision of additional powerpoints.
Emergency repairs: BCS Electrical offers a 24/7 electrical emergency callout service.
Commercial services: BCS Electrical can cater for your strata maintenance programs with regards to emergency lighting, general lighting and smoke detectors.
Electrical test tagging: An electrical test tagging service is available either at the showroom or offsite.  Electrical test tagging is increasingly necessary for OH&S compliance.
Difficult access work: BCS Electrical's team are accredited to work at heights and can access scissorlifts and cherry pickers to reach those difficult to access electrical infrastructure and lighting.
Contact the team at BCS Electrical today on 8554 3094 to see if they can assist you with your electrical needs.
Glenn and the team can assist with test tagging of your electrical tools, appliances and equipment.